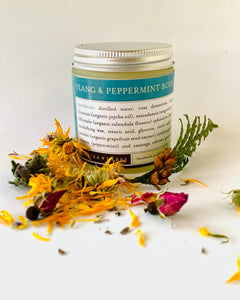 Body Lotion - Ylang & Peppermint Body Lotion. . Non greasy or sticky.
Regular price $17.00 Sale
One word to describe the Ylang and Peppermint Body Lotion...FRESH! Made with a base of Calendula Oil and Jojoba, Macadamia Nut Oil, and Rosewater. All organic and beautifully moisturizing. 250ml/8oz
made with all organic ingredients: distilled water, rosa damascena( organic rosewater), simmandsia chinensis(unrefined organic jojoba oil), macadami integrifolia ( organic macadamian nut oil), calendula officinalis(organic calendula flowers), olea europa(extra virgin olive oil), emulsifying wax, palm steric acid, glycerin, citric acid, tocopherol(non gmo vitamin E), vitis vinifera(certified organic grapefruit seed extract), cymbopogen martinii (organic palma rosa), mentha arvensis (organic peppermint) and cananga odorata genuina (ylang ylang) essential oils. 
This is my new fave!
Pam, Gabriola, BC